Tuesday November 21, 2017
---
How the New CMS Proposed Rules Impact Part D Prescriptions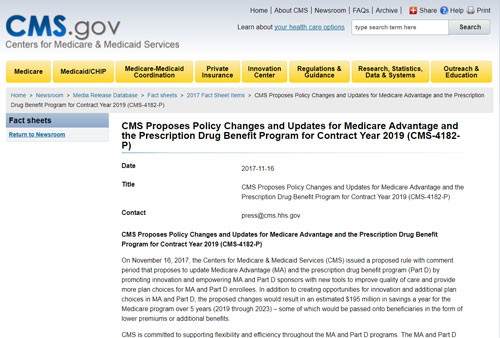 The CMS Proposed Rule issued November 16th regarding 2019 policy changes and updates for MA and Prescription Drug Plans include the following Part D provisions:
Allowing certain mid-year changes to formularies when a new generic is available
Treating lower-cost "biosimilar" versions of biologic products like other generic drugs
Request for Information on rebates and discounts drug companies provide to health plans
Promote greater participation of local pharmacies in Part D in clarifying Any Willing Pharmacy provisions
Allowing Part D plans to implement drug management programs limiting "at-risk" beneficiaries' access to substances deemed "frequently abused drugs.
SPONSOR MESSAGE

Argus Health is now DST Pharmacy Solutions
DST Pharmacy Solutions is redefining the value of pharmacy in healthcare to help deliver better clinical and financial outcomes that allow you to think more strategically about the challenges you face. Learn more about our capabilities.
---
HealthExecMobile, 1101 Standiford Ave., Suite C-3, Modesto, CA 95350; www.healthexecmobile.com